Documentation is freedom.
It's easy to put it off, especially if you started off being the only person running the show. You just know all of the little shortcuts—the weird way your content management system formats things, how to get the trash bag to fit on the can just right—how could you properly delegate everything that goes into running your place?
The problem, of course, is that the more your business depends on you, the more shackled to it you'll be.
Fortunately, your path to freedom is not far away.
Documenting every last little bit of how you run your business is painful. But avoiding it just prolongs the inevitable.
Take a deep breath and think about the hundreds or even thousands of hours of work you'll be saving yourself over the course of the next several years.
It feels good, right?
The scariness of getting things documented and delegated starts to subside once you begin.
But where do you even begin?
For that, I've got your back.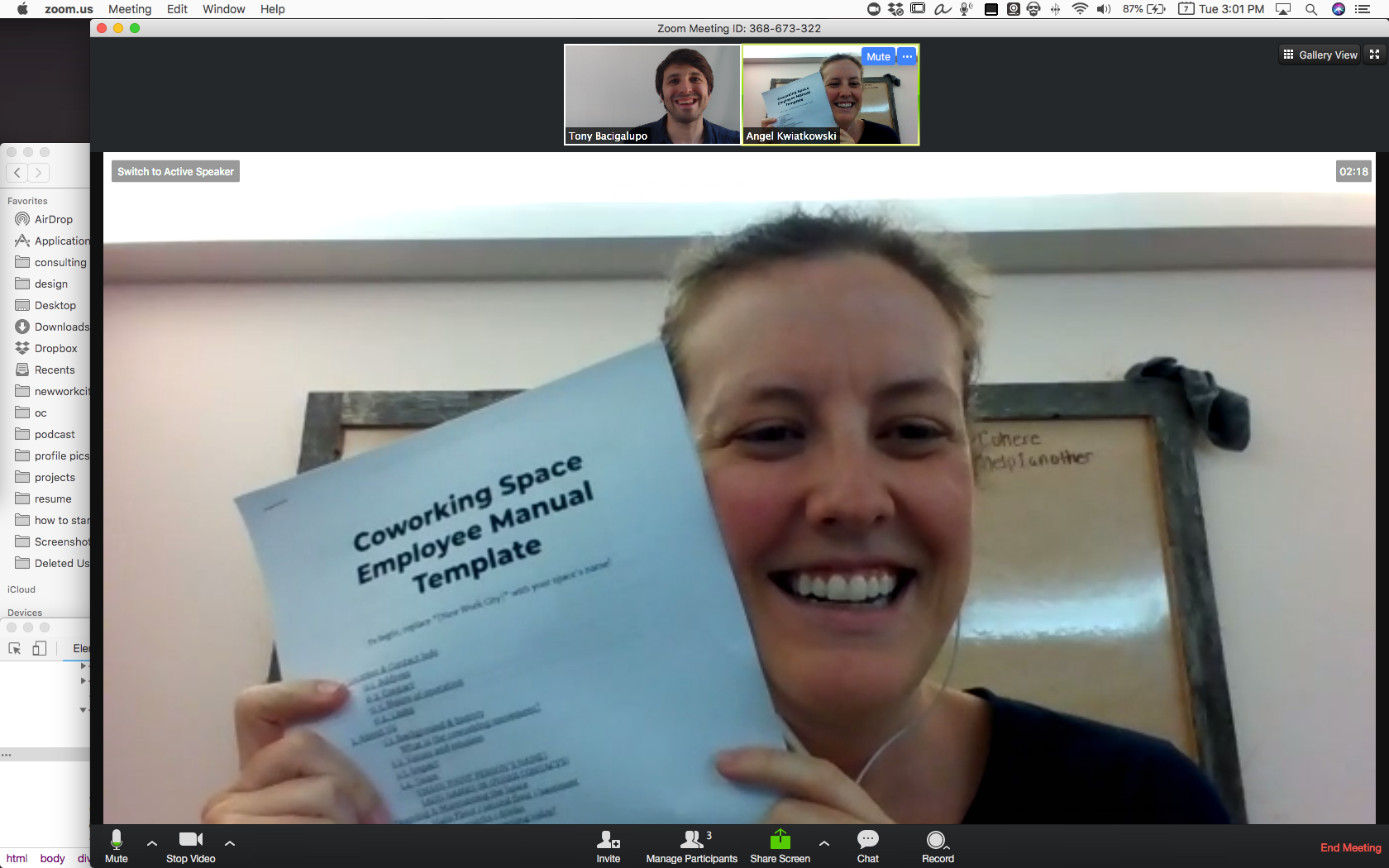 The Coworking Space Employee Manual Template is based on a real-life coworking space's manual.
I've stripped out all of the identifying information and made it easy for you to pop your space's information in there yourself.
Filling in a template like this will help you see what you might not see on your own—you can identify topics that need to be noted, that you know all about, but didn't think to write down yet.
More importantly, you can create a living document that can be continuously improved by you and the other members of your team as you go.
Buy the template now
You've got two options for getting the template:
Purchase the template
Get access to the editable template, which covers:
Location & Contact Info

About Us

Opening Procedures

Closing Procedures
Membership

Guests and Newcomers

Events

In case of Emergency
You'll also have lifetime access to all updates to this document.
One-time purchase of $49
Template + full support
When you join the New Work Cities network, you'll get:
The Coworking Space Employee Manual Template
Access to our full Coworking Toolkit ($399 value)
One-on-one support as you set up your template
Access to weekly video Q&As
Access to our archive of video Q&As
Access to our online discussion groups

$99 / mo. Cancel anytime.