You know those zillions of dollars in funding WeWork has been raising?
They're directing those funds towards killing as many independently run coworking spaces as possible.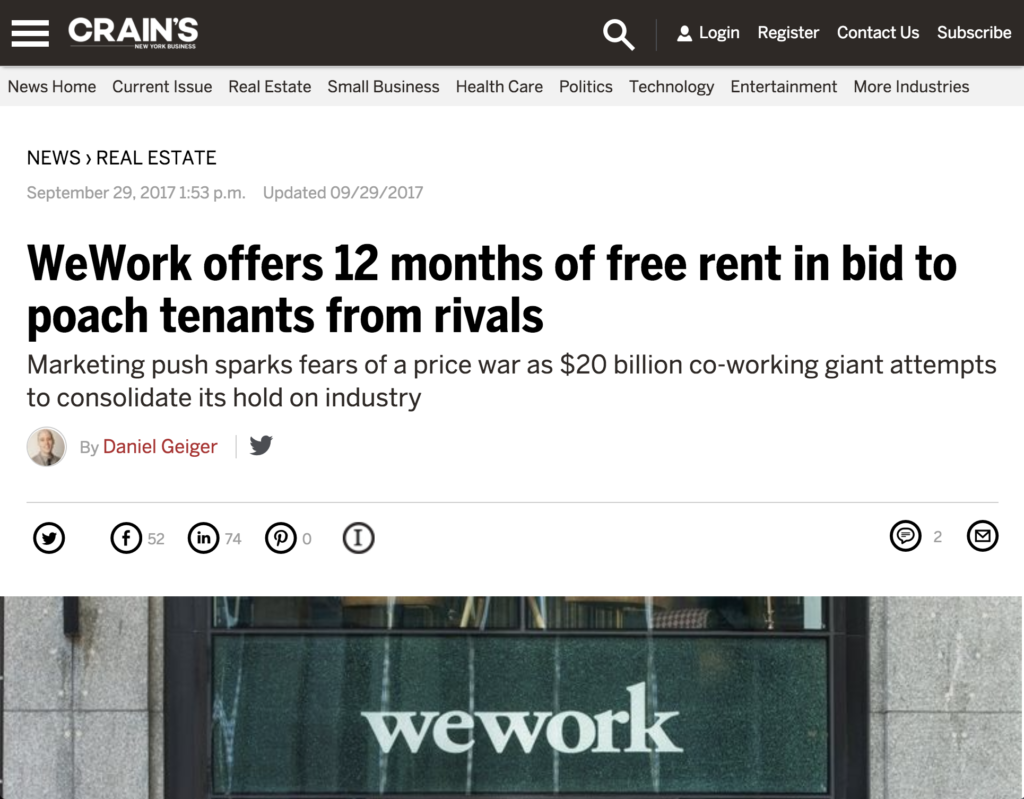 http://www.crainsnewyork.com/article/20170929/REAL_ESTATE/170929859/wework-offers-12-months-of-free-rent-in-bid-to-poach-tenants-from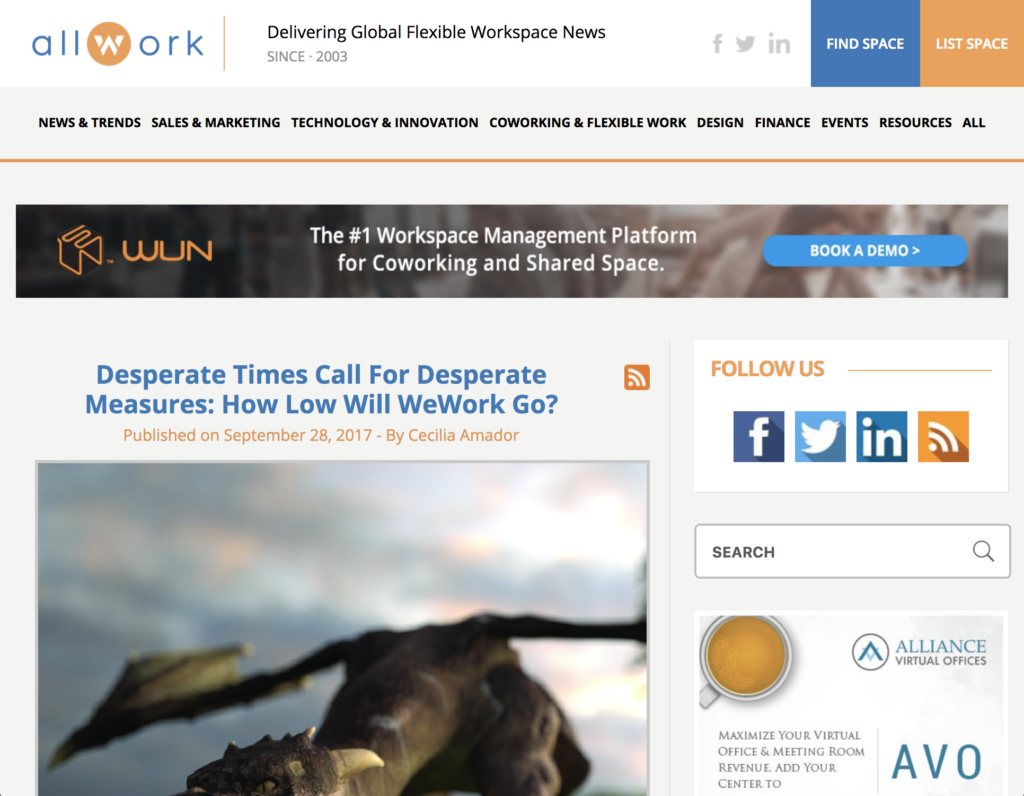 https://allwork.space/2017/09/desperate-times-call-for-desperate-measures-how-low-will-wework-go/
I don't like to talk about WeWork more than necessary, but what they're doing now merits attention because it helps to underscore the point:
It's war.
Now… I really really don't want any of you, my friends and compatriots, to spend more than an absolute minimum amount of time thinking about this.
Why?
Because I was one of WeWork's first competitors. Their first location was right around the corner from me.
I know what happens when you let yourself get distracted by the big bad competition.
You can't sweat them more than necessary, because then you lose.
How do you win?
You win by being awesome.
What do I mean by that?
Being awesome means doing more than just renting space. It means organizing great programming, working with others who themselves are organizing great programming, treating people like human beings, and weaving strong bonds between people and communities.
Don't build a workspace. Build an institution!
If people are just renting space from you, they're prone to jump to the competitor when they have something better to offer.
If people are a part of your community because of the relationships they have, and because they feel emotionally invested, then nothing is going to be able to steal them away.
Even cultivating that sense of belonging amongst a small core group can reverberate to a much wider audience.
10 amazingly activated community members can carry the morale of 100.
Elevate your efforts beyond simply offering workspace to build something more impactful and meaningful. Focus on that first 10, and you'll be well on your way to the next 100.
Let's band together.
The members of my Organizers Club and I are joining forces to make it easier for independent space operators to cultivate these kinds of communities together.
We're meeting weekly to discuss tips and tricks and to brainstorm new ideas.
In our upcoming conversations, I'll be focusing in even more on this topic, because it's too important to ignore.
If you'd like to join us for an upcoming conversation, email me to let me know.
Let's use these kinds of situations to steel our resolve!
Tony
tony(@)nwc.co
Comments